Describe the problem:
Hello rocking tax-brain masses of Koinly.
What is the recommended protocol (tagging, soft deleting, manual CSV, re-whatevering) the profits made from a short sale, so that I can import it properly into Turbo Tax?
For instance I wanted to short $100 worth of AVAX so on GMX
I provided $101USDC collateral on the April 30th.
GMX Transaction Fee = .04257 AVAX ($0.74USD)
GMX Approval Fees = .00161 AVAX ($0.03) and .00129 AVAX ($0.02)
I closed the position on May 3rd netting a cool $110.5151USDC
GMX Transaction Fee = .02991722 AVAX ($0.51)
or more simply:
$9.52 short term profit - $1.31 fees = $8.21 net
I'm hoping to make hundreds of these transactions in the future and wondering whats the best and smartest way to use Koinly for this so that there is little manual over riding, yet reporting correctly to each form. Also if Koinly isnt ready for this yet, should I set up a separate wallet to perform these transactions, avoid confusing Koinly with them and then manually input them to Turbo Tax?
PS. Tell the team to keep up the great work, making tax time less chaotic.
Here is a screen shot as uploaded via API sync: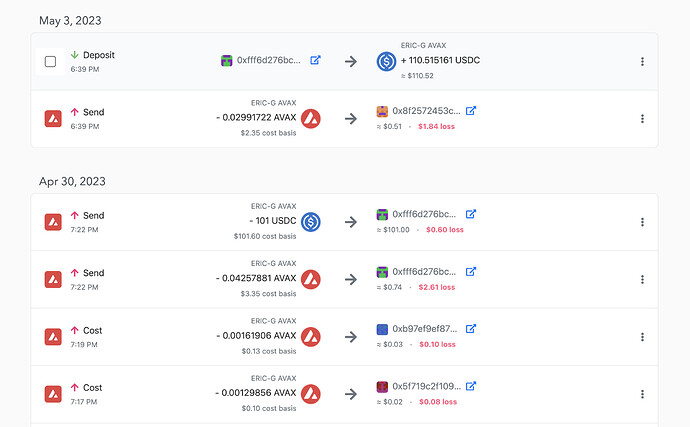 Which exchange/wallet is this regarding?
GMX / Metamask Avalanche
How did you import data into this wallet?
API
What have you tried to fix this so far?
Tried merge, but that made it all into a glaringly incorrect token swap.