It would be great to get a response from the team on this, I would love to see this integration
Agreed this needs adding especially with the growing terra ecosystem
I got the following response from one of the team on March 27th: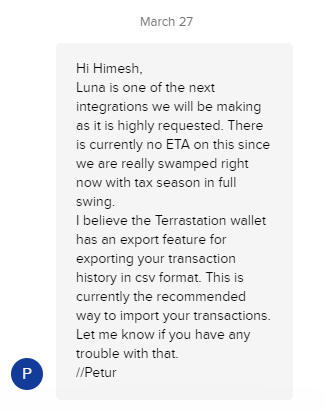 So, it's promising news that it's on their radar, despite Petur being incorrect about the csv export functionality in Terra Station (which I corrected him on in a later message). I think we just need to be patient, but to any new readers of this thread - please continue to upvote this and add your messages! Any further visibility on this definitely won't hurt.
Has anyone found an export feature in the Terra Station Wallet? If it's there I'm totally missing it.
As far as I know there isn't one. Other people have tried to produce their own CSV download tool e.g. https://trackterra.org. I've tried TrackTerra but it doesn't capture all my transactions accurately so I'm waiting for Koinly.
Yes, I am stuck with Luna on Koinly. It does not import. Please add, I want to use Koinly for tax purposes and this is an obstacle.
Please add support for TerraWallet, will purchase Pro subscription if you guys can get this added. Thanks!
I fully support this request! +1
Voted. I am waiting for Luna to be added before upgrading from the free plan.
Yes. We need LUNA, MIR, ANCHOR. Need to be able to export transactions from Terra Station
There is now a proposal on the Terra Station governance page to allow a CSV download of all transactions based on wallet address (proposal 76):
https://station.terra.money/proposal/76
Voting ends on 18 May - please vote with your LUNA if you can!
Bump. +1, this is vital for my taxes!
any news/eta on this topic? really needed for LUNA/MIR/ANC
would love to see this integration!
LUNA, MIR, ANC, … and so many other projects coming to the Terra blockchain. Huge need from the community as Anchor and Mirror are producing lots of transactions, staking rewards and airdrops! Will definitely bring in many more users to the Koinly platform.
Hello Everyone,
Just to confirm, Terra is definitely on our integration list in the future. I can't give an ETA but I can give a confirmation.
Kind regards,
Anakin
Can we get an update on this please?
no update from Koinly it seems. Terra are working on improving things from their end - they have expanded the transaction history and made it work better in Anchor, but still no CSV export. The CSV export in Mirror works but I just tested it and it's actually quite faulty (eg, my BUY of MIR showed cost and price of MIR, but the number of tokens was blank, same for the SELL). So yeah. Tax nightmare. Koinly please rescue us. lol. The terra blockchain is all public, bloody complicated though with the ecosystem of borrows, LPs, synthetics, stablecoins, luna, … awesome. Yeah. Need this to work for Koinly so bad.


Not looking forward to taxes this season
yep, unfortunately I think I am going to have to sit and wait it out and delay tax submissions as long as possible in hope that Terra and Koinly can both nut this one out. Fingers crossed.